How Do You Unmount / Mount An Microsoft Exchange Mailbox 2010
Every database that you have in Exchange can be mounted or dismounted, and doing so will stop your Microsoft ® Exchange information store service i.e. you won't be able to access that database. There are definite situations in which database needs to be dismounted for certain actions, and usually, you will be told when those situations are, however for certain backup types called offline backups or for other reasons, you may need to dismount the mailbox manually.
Dismounting and mounting an Exchange database is pretty simple actually. To know, "How do you Unmount / Mount an Microsoft ® Exchange Mailbox 2010", you can take a look at the steps that are mentioned below with screenshots.
Note- Once, you dismount the database that you use, you won't be able to send and receive mail through it. Make sure that this is a good time to dismount the database and you can do it without affecting your email communication.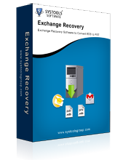 Know How to Dismount Mailbox Database Exchange 2010
First off, you have to go to your Exchange Management Console. The Window of your Exchange management console will look similar to this Window.

Now, in Exchange Management Console Window, you need to browse Organization Configuration node. (You can see that in left panel)

After browsing Organization configuration node, you need to highlight the Mailbox node (just under that Organization configuration node)

When you will highlight the mailbox node, you will get a Database Management screen with all your Exchange databases.

After highlighting the database, which you want to dismount, you need to go to Actions pane in right and click on 'Dismount Database' option.

When the database is dismounted, nobody will be able to access mail within the database.
Know How To Mount Exchange Database 2010
Now, after carrying out offline maintenance, if you want to mount the database, you have to repeat these above mentioned 1-5 steps.

When you will highlight the database then, in Actions pane on right, you will see a 'Mount Database' option. You have to click on that option to mount the database.
Most probably you will Mount Mailbox Database Exchange 2010 but, in case if you fail to mount then, you need to understand the thing that some kind of corruption has occurred in that database. Now, if corruption has occurred, you can try restoring the database from updated backup available.
90 % chances are there that you will be able to restore database from backup but, if 10 % chances occur like if you don't have updated backup or you become unable to restore database from backup then, only solution left for you is, Exchange Recovery tool. You can surely repair your damaged database with the help of this tool. It helps in performing recovery of mailboxes quickly without compromising the quality.